The police conduct related complaints of some members of the public are handled by two organizations, the Police Forces and the Independent Office for Police Conduct (IOPC). Majority of the complaints are handled by the Police Forces themselves while the most serious and sensitive cases are handled by the IOPC. In the most recent report of IOPC for the year 2017/18, a total of 31,671 complaint cases have been recorded by the Police forces. Those cases have been categorized as follows:
Neglect or failure in duty consisting the 39% of the cases
Incivility, impoliteness, and intolerance consisting the 12% of the cases
Other assault consisting the 7% of the cases
Lack of fairness and impartiality consisting the 5% of the cases
Other irregularity in procedure consisting the 5% of the cases
All other categories consisting the 32% of the cases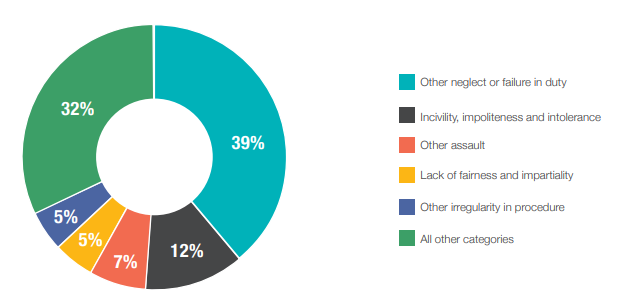 The catch-all categorization showed that the top two complaints against the Police forces are coming from Neglect or failure in duty category consisting the 39% of the total cases and from Incivility, impoliteness, and intolerance category consisting the 12% of the cases. According to the Home Office Guidance (2020),
"When deciding if a police officer has neglected his or her duties all of the circumstances should be taken into account. Police officers have wide discretion and may have to prioritise the demands on their time and resources. This may involve leaving a task to do a different one, which in their judgement is more important. This is accepted and in many cases essential for good policing."
Although there is a wide discretion as to the prioritisation of cases which demands the police officers' time and resources, it is still subject to severity assessment. The high complaint case on Neglect or failure in duty may have rooted from the lack of public confidence in terms of keeping someone informed of their cases on promised time or failing to investigate someone's crime properly. The second top complaint on the other hand may reflect that the public have received treatment without respect and courtesy as well as without self-control and tolerance.
The categorization of the complaint cases matters so that the Police force can directly point out where most complaints are coming from and they can effectively improve their services to gain the higher confidence of the public.
This article was prepared by the Association Against Abuse of Police Powers and Privileges (AAAPPP), a UK not-for-profit organisation specializing in assisting victims of abuse of power and corruption in the UK Police.